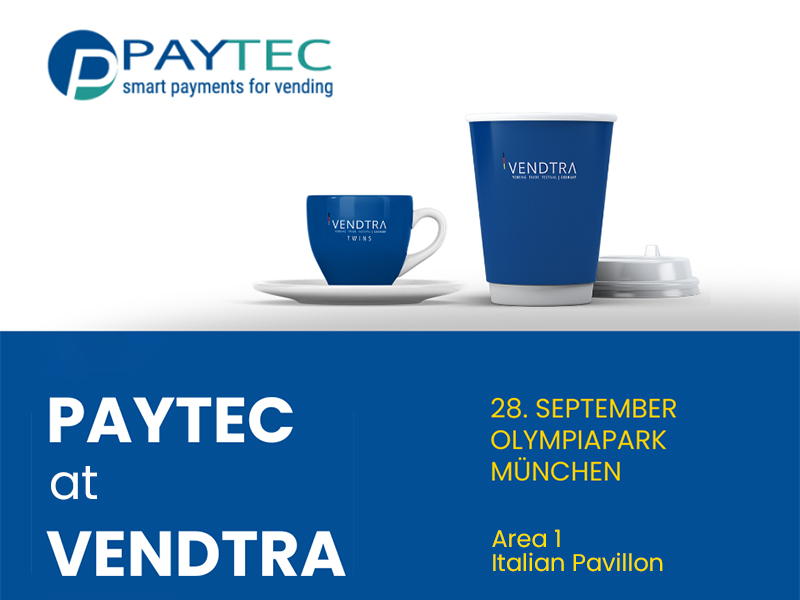 Upon the request of several of our German and Austrian customers, Paytec confirmed its presence at Vendtra, the trade fair for the vending and coffee industry in Munich. You will find us on Wednesday 28 September in the italian pavilion, area 1.
Focus for Paytec is the concept of Your Safe Guide to Vending to support operators in making the best technological decisions, specific to each location. Whether you manage a fleet of thousands of machines or just a few points of sales, each store has a story with its own needs and potential. At Paytec, we start here to guide you towards a new Vending experience. Tailor-made services, practical solutions at fair and transparent prices and on-time deliveries allow you to get the most out of each of your distribution systems.
"The German market is very important to us", says Francesco Pelosin, Paytec's export manager. "His attention to detail and practicalities in each area are well reflected in our products. On the one hand, we have a predominant presence of MDB systems, where Paytec can offer a wide range of easy-to-use products at very attractive prices. On the other hand, the demand for cashless payment systems is rapidly increasing, and we are seeing strong interest in our payment systems by telephone and credit card. "
In Austria, Paytec has already been well known for several years, also thanks to the fruitful collaboration with some major retailers. In this context we are proud to announce the new collaboration with Prehofer Handel GmbH from Ludesh.
Let's meet in Munich and tell us #YourVendingStory!
Paytec, your Safe Guide to Vending
 #YourVendingStory
Back to News